PABX IP Call Data Recorder
This software application will connect to a PABX phone system across a TCP/IP network and log the data it receives. It is primarily intended to record incoming/outgoing call information from a PABX system and log it to a SQL database. Numbers dialled are classified into cost groups based on the number prefix and are assigned a user defined per-minute call cost which is displayed in the reports against extension and call duration.

There are a few useful call data reports built-in or you can access the saved data using SQL queries and construct your own reports in another application of your choice (database, spreadsheet etc.) Report data can be searched, sorted, printed, exported to PDF, or even to a Spreadsheet for further processing.

Some of the built-in reports are shown below, please click on the images to enlarge them.

Outgoing Call Detail Report - Detail on all outgoing calls and costs


Number Group Detail Report - List your user defined "Number Groups", the prefix of the numbers in this group and the cost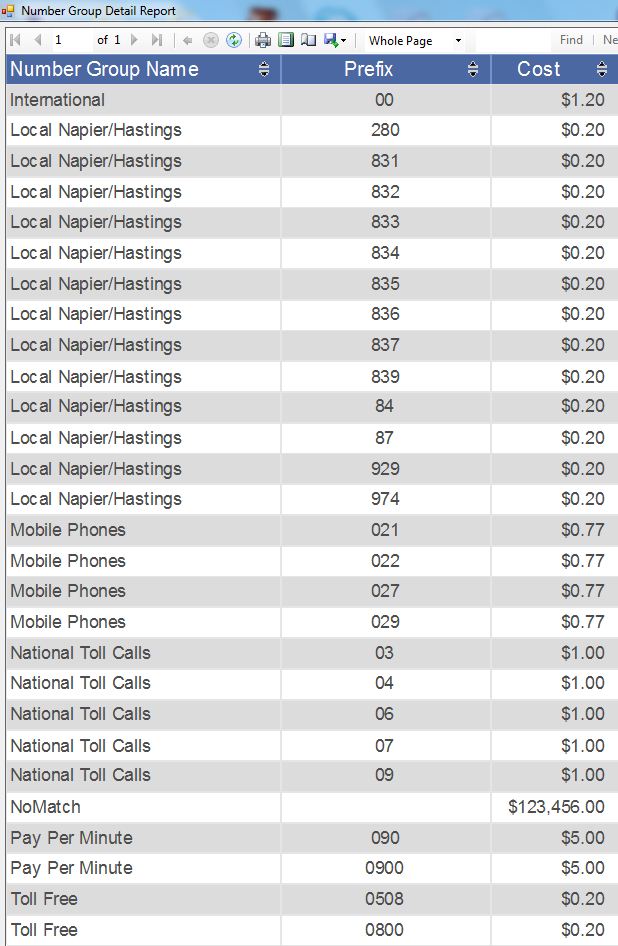 Outgoing Call Summary Report - Summarises the costs per extension for the selected date range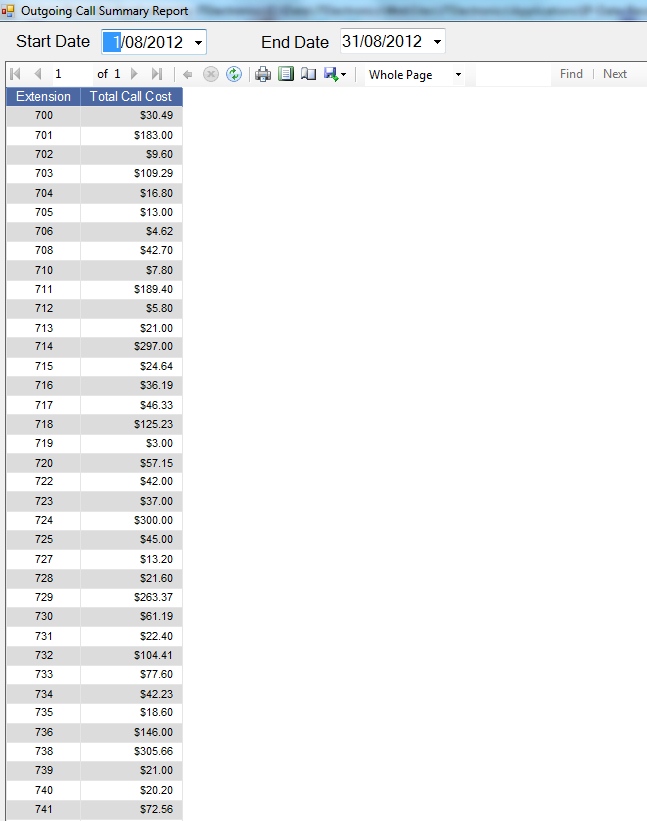 All Calls Detail Report - Lists all calls during the selected date range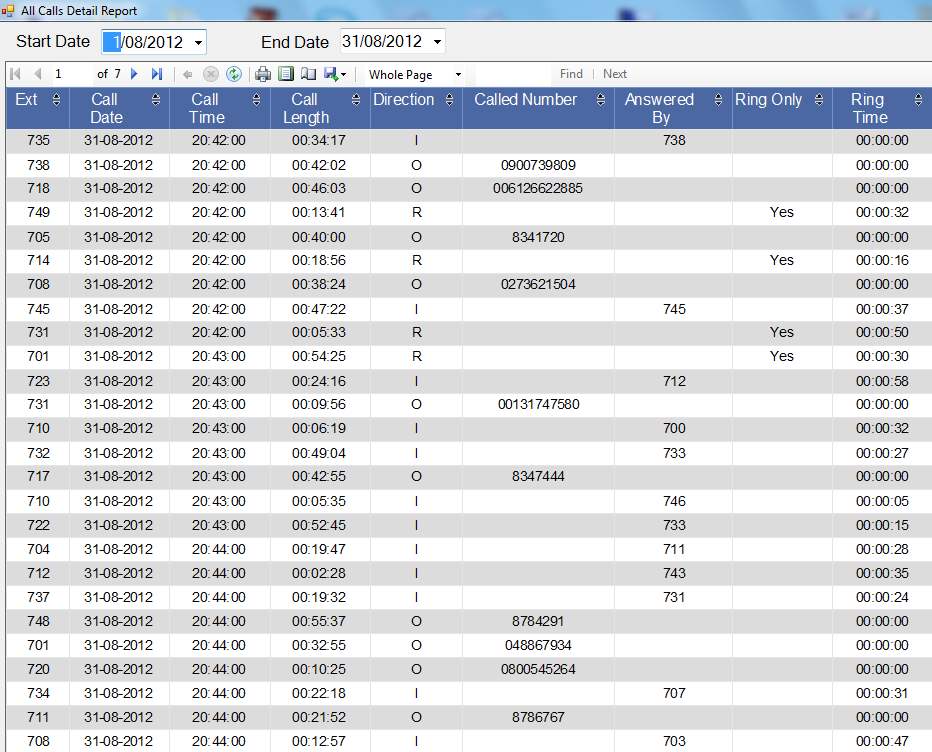 Terms & Conditions Of Use - You must agree to the terms and conditions of use below before you install this software.
With respect to the following terms and conditions of use, the term "JTElectronics" implies JTElectronics, it's agents, suppliers and resellers. JTElectronics may change, move or delete portions of, or may add to, this web site from time to time.
In "Demo" mode, this software will be fully functional for a period of FOUR hours after which the software will halt, until manually restarted. You may continue to use the software in "Demo" mode for evaluation purposes only, and to ensure it is compatible with your systems. Permanent software activation and licensing is via a hardware USB "key" and this will be provided upon payment to JTElectronics for the usage license.
Technical support for this or any other product can be provided to you but will be charged at our standard hourly rate. This is done to ensure the cost of this product is as low as possible, and has no ongoing "maintenance" costs...
All mentioned trademarks on this website belong to their respective owners and are used for reference only.
THE MATERIALS PROVIDED IN THIS SITE ARE PROVIDED "AS IS" AND WITHOUT WARRANTIES OF ANY KIND EITHER EXPRESS OR IMPLIED. JTELECTRONICS DOES NOT WARRANT OR MAKE ANY REPRESENTATIONS REGARDING THE USE OR THE RESULTS OF THE USE OF THE CONTENT OR OTHER MATERIALS IN THIS SITE IN TERMS OF THEIR CORRECTNESS, ACCURACY, RELIABILITY, OR OTHERWISE.
TO THE FULLEST EXTENT PERMISSABLE PURSUANT TO APPLICABLE LAW, JTELECTRONICS DISCLAIMS ALL WARRANTIES, EXPRESS OR IMPLIED, INCLUDING, BUT NOT LIMITED TO IMPLIED WARRANTIES OF MERCHANTABILITY, FITNESS FOR A PARTICULAR PURPOSE AND NON-INFRINGEMENT. JTELECTRONICS DOES NOT WARRANT THE ACCURACY, COMPLETENESS OR USEFULNESS OF ANY INFORMATION CONTAINED ON THIS SITE. JTELECTRONICS DOES NOT WARRANT THAT THE FUNCTIONS CONTAINED IN THE MATERIALS AVAILABLE ON THIS SITE WILL BE UNINTERRUPTED OR ERROR-FREE, THAT DEFECTS WILL BE CORRECTED, OR THAT THE MATERIALS, THIS SITE OR THE SERVER THAT MAKES THEM AVAILABLE ARE FREE OF VIRUSES OR OTHER HARMFUL COMPONENTS. YOU (AND NOT JTELECTRONICS) ASSUME THE ENTIRE COST OF ALL NECESSARY SERVICING, REPAIR AND CORRECTION.
UNDER NO CIRCUMSTANCES, INCLUDING, BUT NOT LIMITED TO, NEGLIGENCE, SHALL JTELECTRONICS BE LIABLE FOR ANY SPECIAL OR CONSEQUENTIAL DAMAGES THAT RESULT FROM THE USE OF, OR THE INABILITY TO USE, SITE OR ANY DOWNLOADED MATERIALS, EVEN IF JTELECTRONICS OR ITS REPRESENTATIVE HAS BEEN ADVISED OF THE POSSIBILITY OF SUCH DAMAGES. IN NO EVENT SHALL JTELECTRONICS TOTAL LIABILITY TO YOU FROM ALL DAMAGES, LOSSES, AND CAUSES OF ACTION (WHETHER IN CONTRACT, OR OTHERWISE) EXCEED THE AMOUNT YOU PAID TO JTELECTRONICS, IF ANY, FOR PRODUCTS PURCHASED ON THIS SITE.
UNDER NO CIRCUMSTANCES ARE YOU PERMITTED TO REVERSE ENGINEER, DISASSEMBLE, DECODE, OR OTHERWISE CIRCUMVENT ANY SOFTWARE, SOFTWARE PROTECTION, OR HARDWARE OF ANY JTELECTRONICS PRODUCT. THIS TYPE OF ACTIVITY MAY INSTRUCT THE PRODUCT TO REPORT DETAILS BACK TO JTELECTRONICS INCLUDING BUT NOT LIMITED TO YOUR INTERNET IP ADDRESS TO ASSIST IN TRACKING DOWN ABUSE OF THESE TERMS AND CONDITIONS. JTELECTRONICS RESERVES THE RIGHT TO TERMINATE YOUR LICENSE TO USE THE PRODUCT IF IT IS DEEMED THAT YOU HAVE NOT COMPLIED WITH THESE TERMS AND CONDITIONS.
APPLICABLE LAW MAY NOT ALLOW THE EXCLUSION OF IMPLIED WARRANTIES, OR THE ABOVE LIMITATIONS OF LIABILITY, SO THE ABOVE EXCLUSIONS MAY NOT APPLY TO YOU.
Install the software by clicking here..
But before you deploy, you will need the following software installed:
These other prerequisites will be installed automatically if needed...